How To Play Stardust
Now comes the big decision...do you want to log in as a Boyd Gaming B Connected player, and for every virtual coin purchase earn B Connected Points and Tier Credits or...play as a guest? If the answer to that is an enthusiastic "Yes, I want to log in as a B Connected player!!!" then click on the top "B Connected Login" button.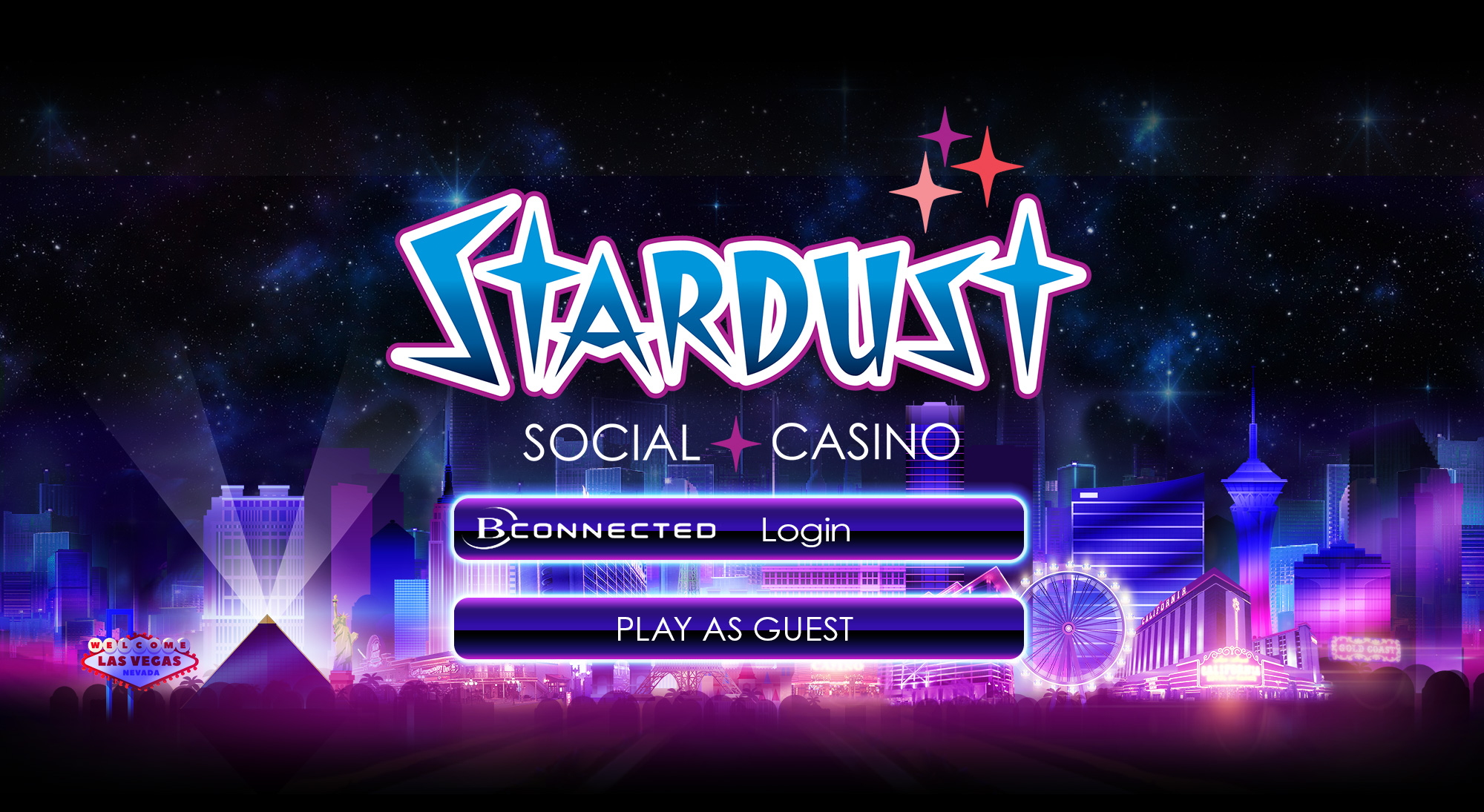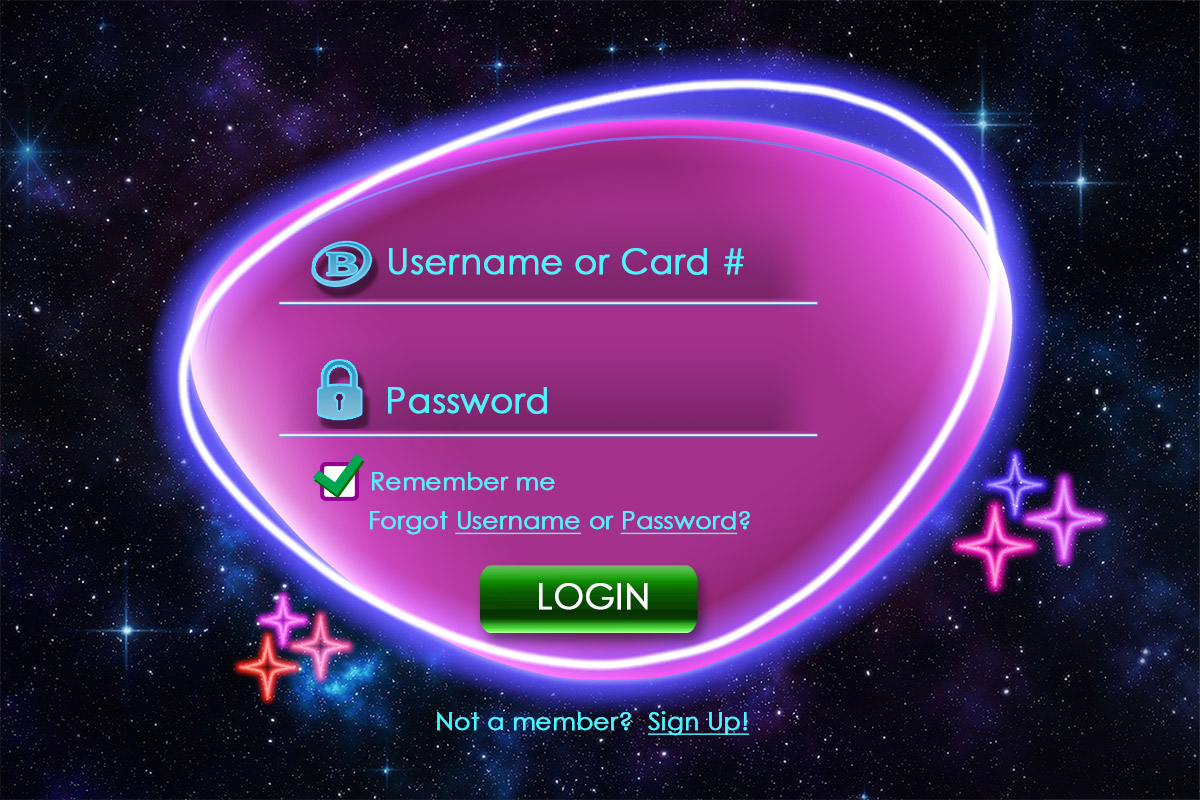 When the cool space-age popup appears, input your B Connected username and password.
If you don't have B Connected Online credentials, then click on "Not a member?" to create an account today.
Once logged in, for every $1 of in-app virtual coin purchases,
eligible B Connected players earn 150 B Connected Points, and every $5 of purchases earns 1 Tier Credit!
Please note, this special rate is offered in celebration of the sixty-second anniversary of the founding of the original Stardust Casino and is available for a limited time.
Welcome to the Lobby!
After logging into the game, either as a Guest or a B Connected player, you'll arrive at the casino lobby. The Lobby is home to the game's menu where you can find all the available slot machines. Swipe left to spin the carousel and browse our titles! New games are always being added, so swipe regularly!!!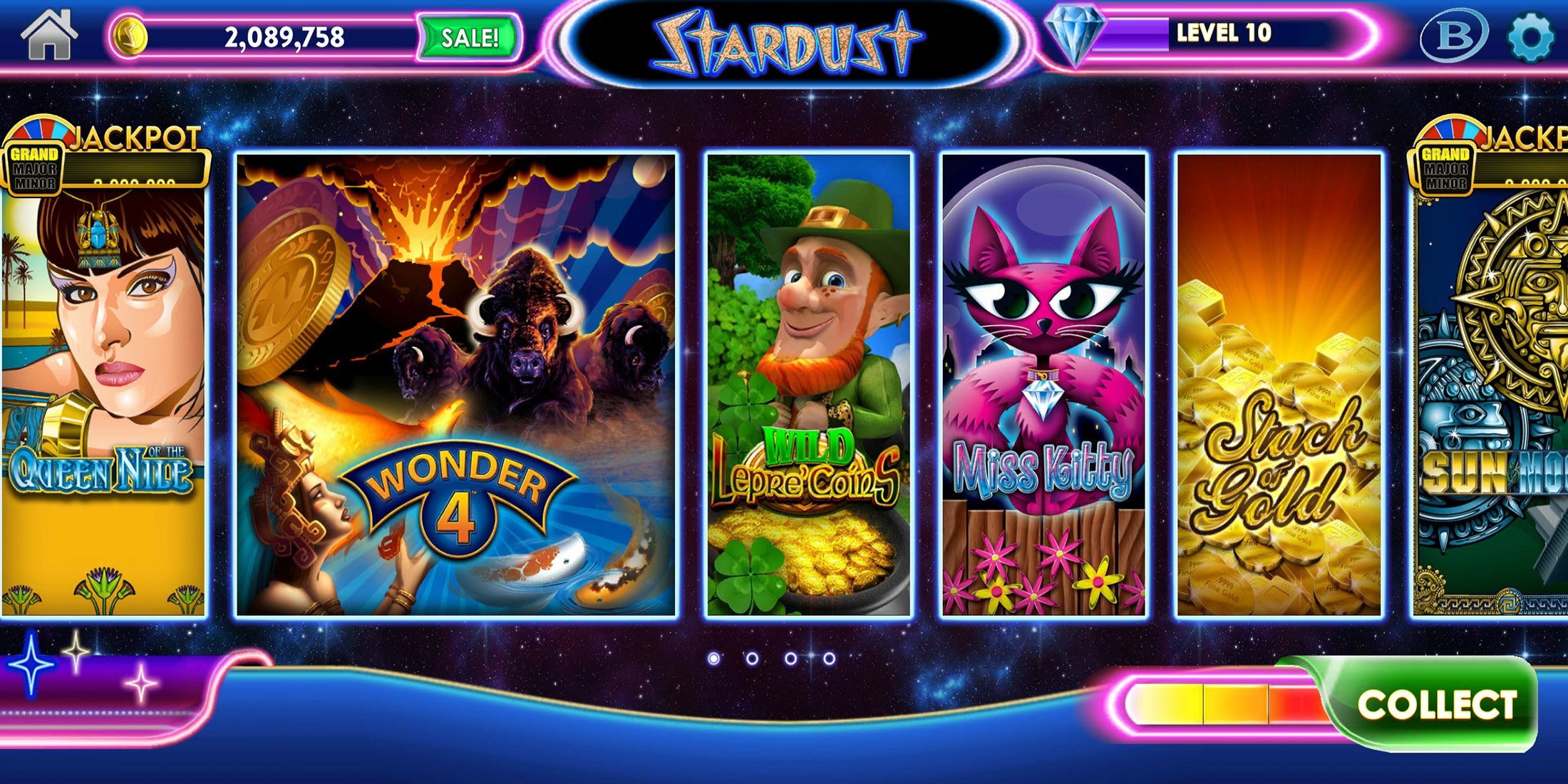 Finding Bet Levels
Tap on a game tile to view game details and bet levels before playing. The game card will open, showing the available bet levels.
Golden Peach
, for example, has a max bet of 12 million and a minimum bet of 30,000 virtual coins. In game card mode, you can scroll through all the game cards by tapping the floating arrows to the left or right of the info card.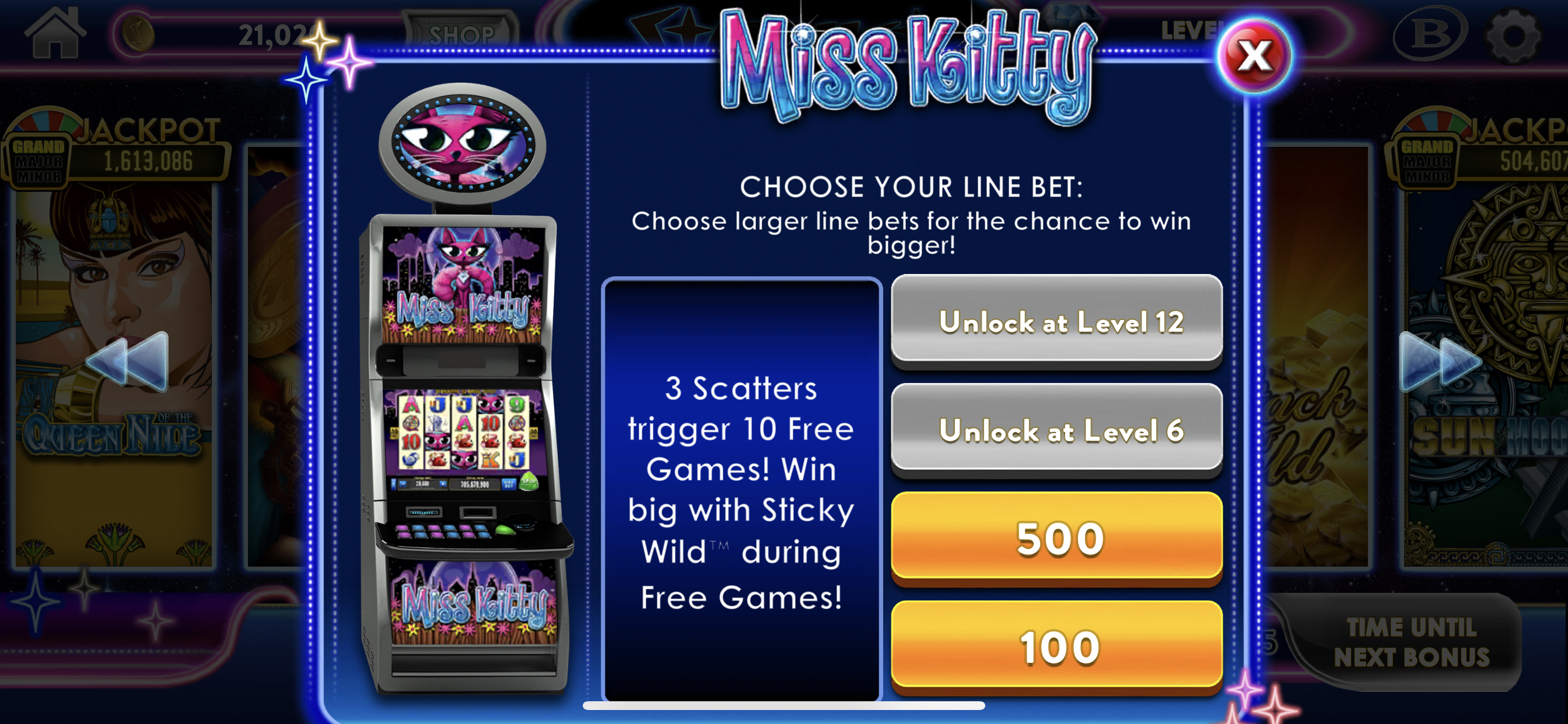 Viewing Your Virtual Coin Balance
Your virtual coin balance is located at the upper left corner of the top menu bar. Just look for the Stardust gold coin!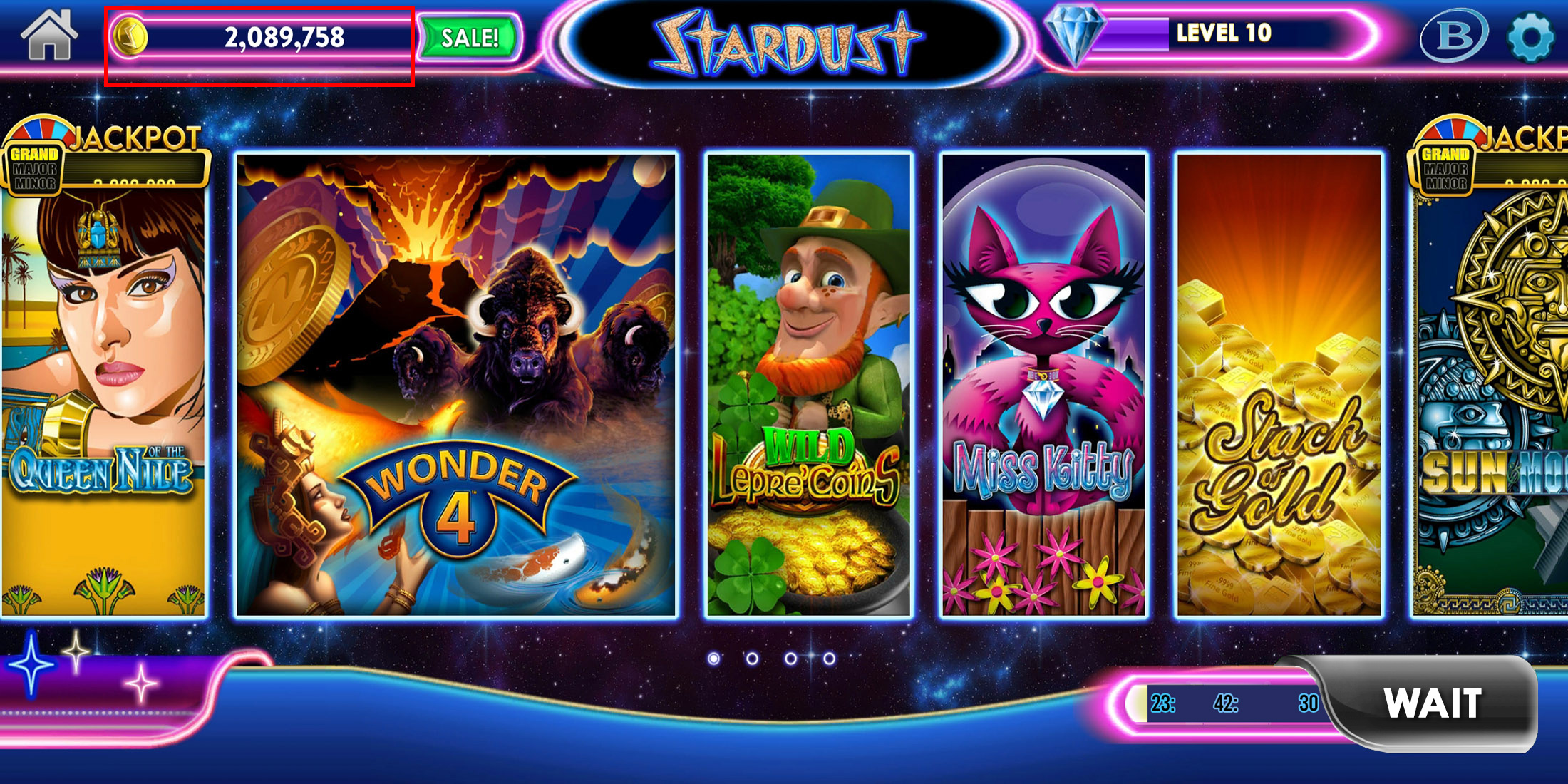 Buying Coins
Stardust awards you virtual game coins every three hours. However, if you run out, you can always buy more by tapping the green "SALE!" button located to the right of your balance. Tap "SALE" to open the Shop. Don't forget to check out the Premium Bonuses! There are some great deals.
Remember: you cannot cash out Stardust virtual coins for real money or prizes. The Stardust Social Casino is designed for entertainment purposes only – NO gambling!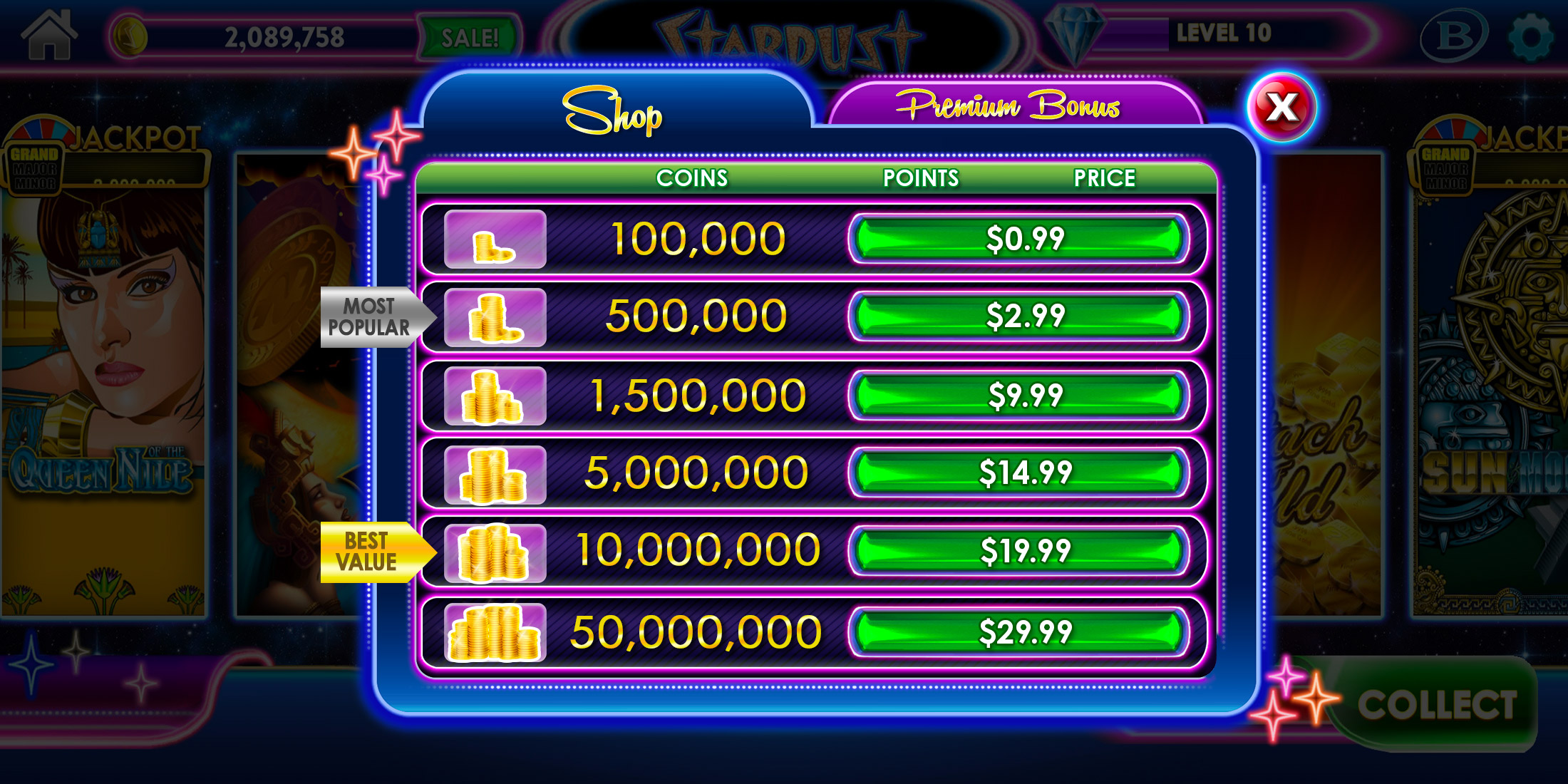 Registered members of Boyd Gaming's B Connected casino loyalty program who link their accounts may earn benefits from in-app virtual coin purchases. As 2020 marks the sixty-second anniversary of the founding of the original Stardust Casino, Boyd Gaming is offering a limited time in-app virtual coin purchase Launch Special! Once logged in, for every $1 of in-app virtual coin purchases,
eligible B Connected players earn 150 B Connected points, and every $5 of purchases earns 1 Tier Credit.
Please note that B Connected points earned as a result of Stardust virtual coin purchases may take up to 48 hours to be credited to players' accounts.
An
eligible B Connected player
is one who is at least 21 years of age and completed the B Connected sign-up process by verifying their identity with a valid, unexpired government-issued photo ID. Persons who have opted into any gaming regulatory or property self-limit or self-exclusion program or have been excluded by a government program or agency or by Boyd Gaming are not eligible to participate. Please check with B Connected at your local Boyd Gaming property for further clarification.
Ruby B Connected players are only eligible to earn Tier Credits for in-app virtual coin purchases. Sapphire and above B Connected players may earn Tier Credits and B Connected Points for their in-app purchases. B Connected program rules apply. These terms are subject to change.
Settings
Settings is where you can find all the essential controls for the app. To get to Settings, locate the little gear icon on the upper menu bar's right corner. Tap on the gear to open the Settings menu.

Within Settings, you can do the following:
Adjust sound levels
Find your User ID (in case you need to report an issue)
Find out what version of the app you have (also in case you need to report a problem)
Sign in with your B Connected player ID (to earn B Connected Points and Tier Credits)
Access Support to read the FAQs and to submit a customer service issue or question
Read our exciting Terms of Service
Read our Privacy Policy
Wow, that's a lot for one little gear!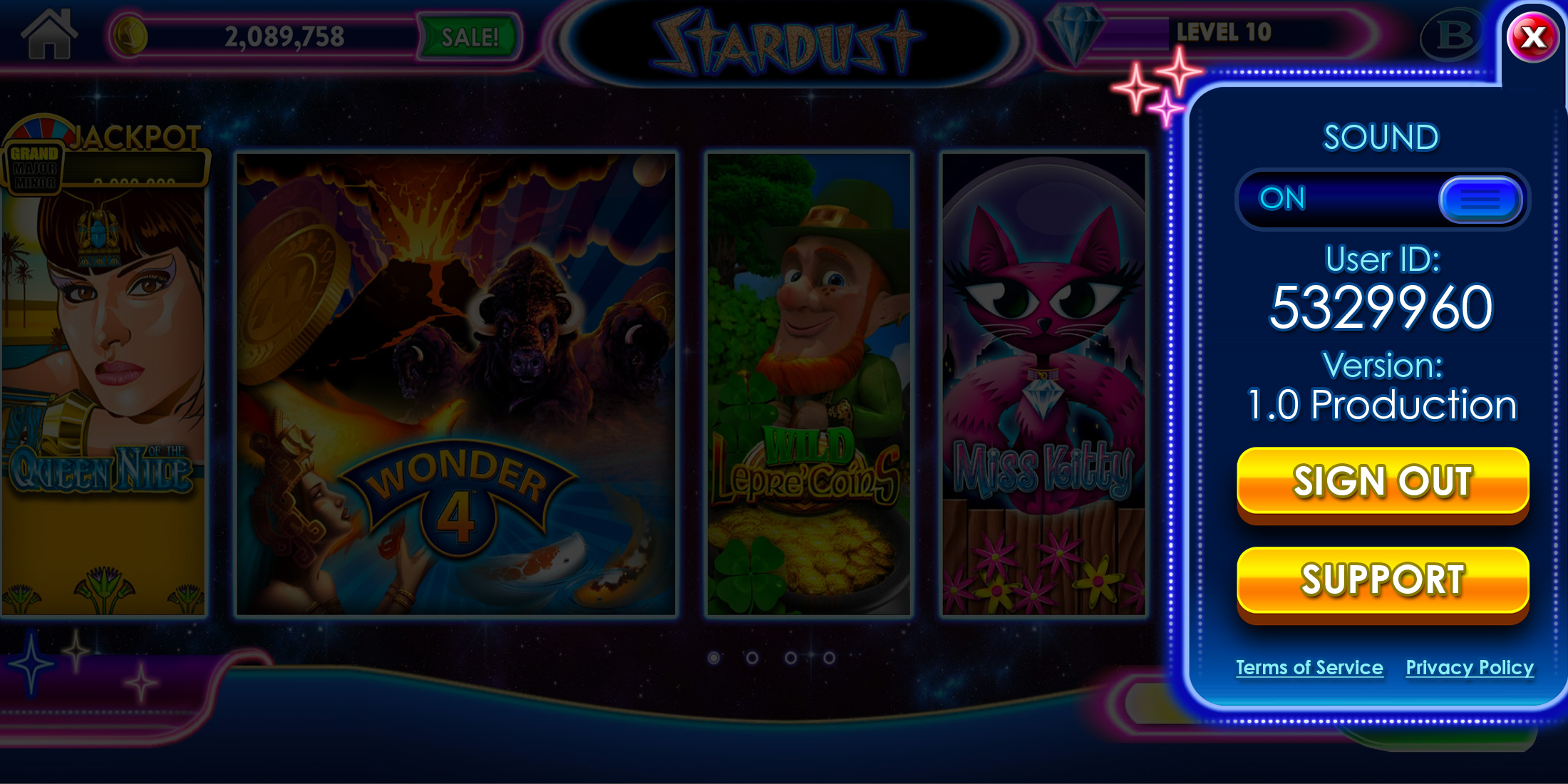 Leveling Up
Your current play level is shown at the top of the menu bar next to the diamond. Play often to raise your level.
The higher your level, the better virtual coin and bonus offers you'll receive.

Leveling up in Stardust is not connected to or associated with leveling up in Boyd Gaming's B Connected loyalty program – the two are entirely separate.
Bonuses
In Stardust, there are two ways to collect FREE coins within the game: The Daily Wheel and the Hourly Bonus.

The Daily Wheel appears at start of a new play day. Every time you spin you win! The wheel has an associated Return Days bonus. The Return Days bonus is based on how many days (within 24 hrs) in a row you've returned to the game. Psst, here's a tip: if you consistently play every day, you'll get bigger and better bonuses!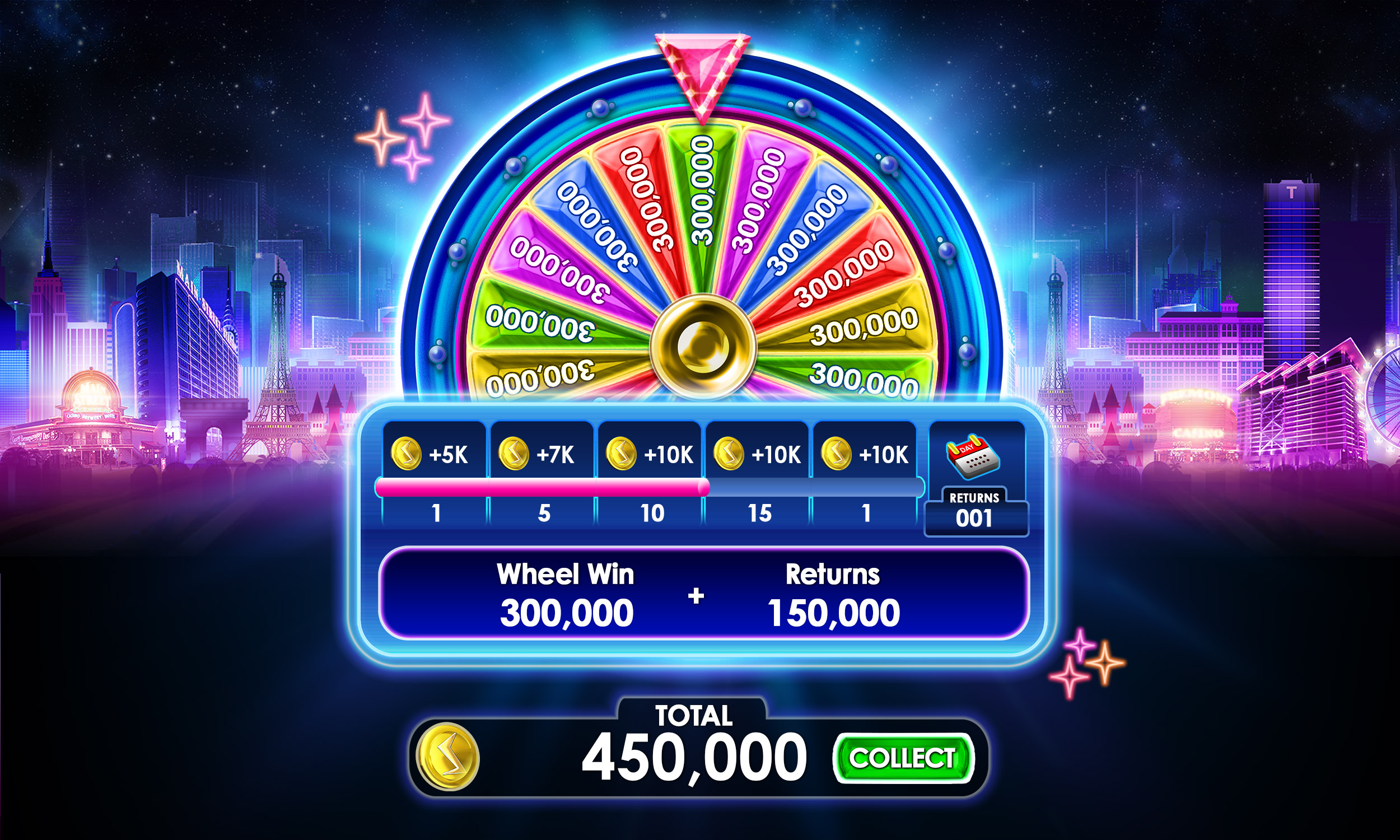 Set your stopwatch for this one: Hourly Bonus can be collected once every 3 hours! Just tap on the green COLLECT button on the lower menu bar to grab your FREE coins.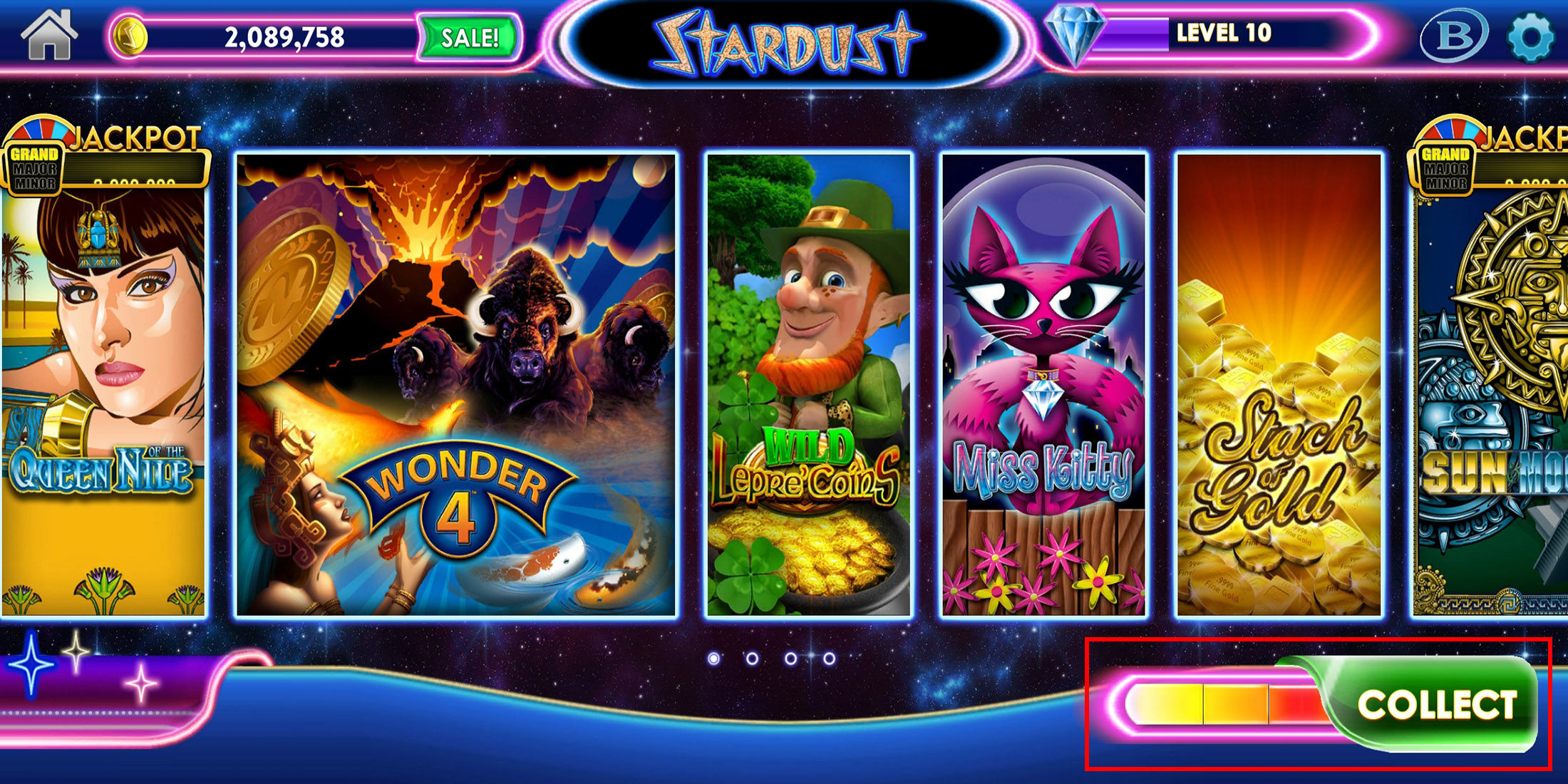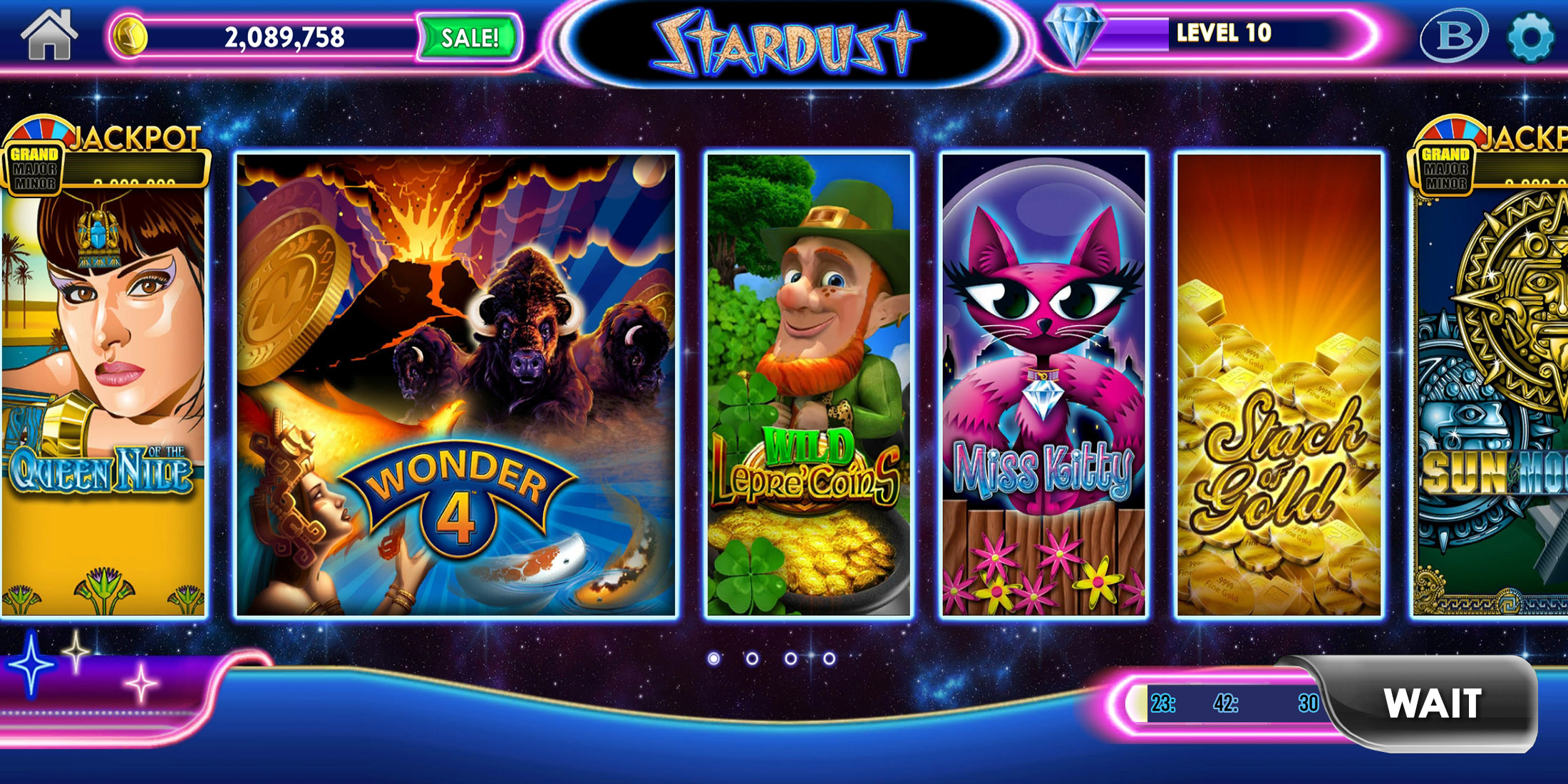 Once collected, you'll receive a popup next to your balance, confirming that your coins have been received. Then, the countdown begins again for the next bonus.
Now you're an expert!
That should be enough to get you started. So, what are you waiting for? Get playing!!! Oh, and if you have more questions, you can always consult the FAQs by tapping on the SUPPORT button - we told you how to find it.
For all of the latest updates and special offers, check out the Stardust Facebook Fan Page and follow us on Instagram!

Download for iPhone Download for Android